A Nintendo Entertainment System with PC parts inside.
Created in July 2003 by Sxerks
Original idea from: Tim Wasson's apperence on TechTV's The Screensavers , both sites are now defunct.

Specs:
Broken Nintendo from eBay +S&H $20.82
VIA EPIA M10000 from Monarch Computer $164 - site now defunct
Samsung SN-324BEA Slim Combo 24X10X24X8 CD-RW/DVD from Monarch Computer $124 - site now defunct
512MB PC2100 from Newegg $56
Hitachi IBM Travelstar 40G Hard Drive from Directron $116
Slim ATAPI to Standard CDDVD adapter from Directron$10
HD Adapter to Convert to IDE from Directron$10
Enhance 90W Micro ATX PS-SFX-1209F +power cord from Directron$30
4x4cm Case Cooling Fan 4 pin from Directron$5
IDE-to-Floppy Power from Directron$2
Broken VCRs for parts - FREE
TOTAL +S&H= $590.35

Build Time: On and off for about 2-3 weeks.
Weight before mod: 2.75 lb (1.25kg)
Weight after mod: 4.5 lb (2.04kg)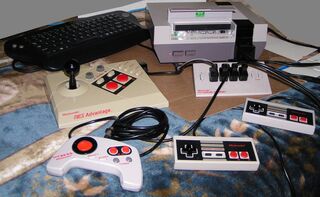 Semi-failed ideas and old projects
Themes, Boot and Login Screens.